While I love pretty jewelry as much as the next person, what I DON'T love is jewelry that irritates my skin. It is a major bummer to wear a bracelet or necklace that looks just perfect with an outfit, but then having to take it off part way through the day because the irritation is just sooooo annoying.
That's where Alchemy jewelry spray comes in. It is a jewelry sealer that is specifically designed to protect your skin from the discoloration and irritation that some jewelry can cause. Not only that, it also has the bonus of protecting your jewelry from tarnishing. Since I wear a lot of silver jewelry, that's a great thing to hear!
The cool thing about Alchemy is that once it is on your jewelry and dried, you can't see it, feel it or smell it. It's like it's not even there. But it IS there as an invisible barrier protecting your skin and your jewelry. Oh, and it's super easy to use too. You can see how it's done in this video by Alchemy founder Ashley Colonna.
Looks awesome, right? I tried Alchemy on a couple of my bracelets and it really did work as mentioned. I thought that I would for sure be able to feel something on them after I was done, but you really can't.
I'm looking forward to the tarnish prevention feature of Alchemy too. So often I take out one of my silver bracelets and can't wear it because it is tarnished. I need to polish up my bracelets and coat them with Alchemy to help stop that problem!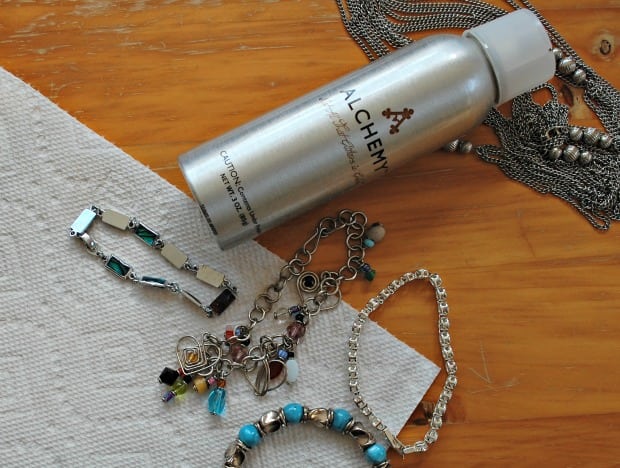 Excited to try Alchemy yourself? You can enter for a chance to win below. If you don't want to wait around to see who wins, you can order Alchemy here. If you do end up winning, Alchemy will make a wonderful gift for your sister, mom, friend, or anyone who loves jewelry!
Reader Giveaway: Two (2) lucky Thrifty Jinxy readers will each win a bottle of Alchemy. To enter, just complete the entry form by 11:59pm ET on 4/20/15. Good luck!
Alchemy