Dinner can be easy to make and on the table within 15-minutes using Campbell's Dinner Sauces, specifically the Campbell's Skillet Sauces.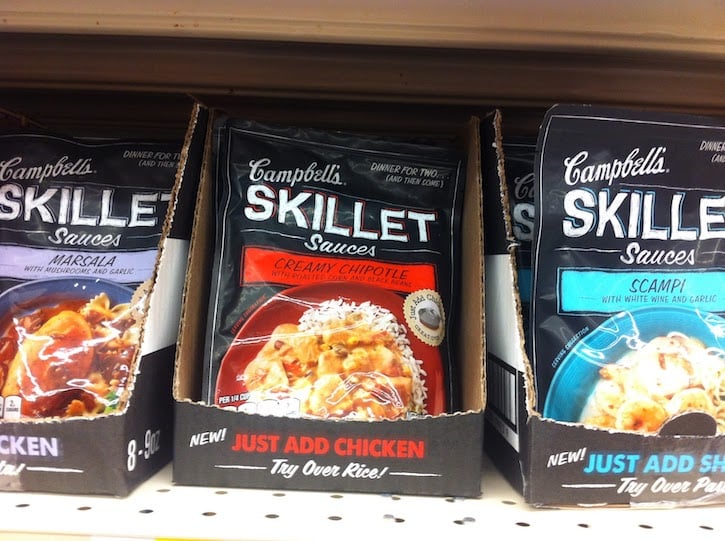 The last few weeks of our life have been more than hectic. Besides all the craziness of the holidays, we also bought a new house mid-December. Well, I should say "new to us" because it is actually a very old house that needs a lot of updates!
So we have been spending a lot of time working on it ourselves as well as dealing with professional contractors, electricians, plumbers, etc. The lack of time has meant a lot of eating out. While I love to eat out, after a while it is no longer a treat and I just really want a meal made at home!
So, I was happy to have the opportunity to try new Campbell's Skillet Sauces. They are specially designed to make a quick and easy dinner for two. When I cook, it's usually for just Mario and I, so it's nice to have something that is just the right size.
Campbell's Skillet Sauces are available in six varieties: Creamy Chipotle, Fire Roasted Tomato, Toasted Sesame, Marsala, Scampi, and Thai Green Curry.
They were easy to locate in the Boxed Dinners aisle of my Cub Foods grocery store (look for special signs pointing them out during January.) Each of these delicious varieties can be made in just 3 easy steps: Heat, Add and Stir.
When I got home, I put the easiness to the test. I had purchased chicken that was already cut up, so all I had to do was heat up a little oil in the skillet and brown the chicken. After that it was just a matter of opening the sauce pouch and stirring in the sauce, then letting it cook for five minutes. It really WAS super easy!
Not only was it quick and easy dinner to make, I only had to dig out and dirty two kitchen items – the skillet and a spatula. Talk about easy clean-up!
Being easy to cook is just one criteria for a great meal….the real test is in how it tastes! Well, I have to say that Campbell's Skillet Sauces passed that criteria with flying colors. I loved the blend of flavors and the way the sauce thickened nicely after cooking. When I asked Mario what he thought of it he simply said "This is delicious". So, you heard it straight from the critic's mouth – – it's good!!
Coupon: During the month of January, there is an in-store coupon on the display for $2 off the purchase of fresh chicken, steak or seafood when you buy 1 Campbell's Skillet Sauces. At my store the sauces were priced at only $2.29, which means it was like I was paying only $.29 for it! You can also get a $1 coupon from the Campbell's Skillet Sauces Facebook page during the month of January.
More Information: Besides the Facebook page above, you can also visit the Campbell's Skillet Sauces web site and/or follow Campbell's Kitchen on Twitter.
Disclosure: I am a member of the Collective Bias® Social Fabric® Community. This shop has been compensated as part of a social shopper insights study for Collective Bias® and Campbell's. Any opinions expressed are my own. #cbias #SocialFabric