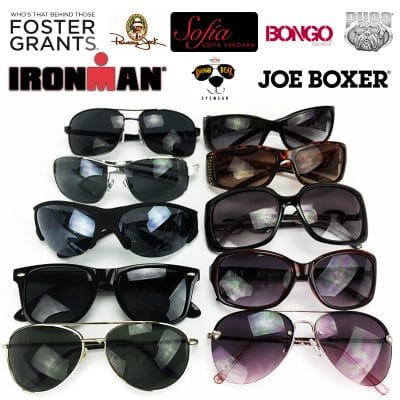 Right now you can get 8 pairs of men's or women's sunglasses for just $14.99 + FREE shipping from 13 Deals! The catch? You can't pick exactly which sunglasses you'll receive. Brands include Foster Grant, ESPN, Sofia Vergara, Eagle Eyes, X Games, Panama Jack, and more.
I am always losing or breaking my sunglasses so I really don't like paying a lot for them. I've taken advantage of deals like this in the past and while I haven't loved every pair, there are usually at least a few that are my style and work well for a season. (I just give my kids the extras to use for dress-up time.)
The adult pack pack will include a mix of sunglasses from Cosmogirl, Revlon, ESPN, X Games, Eagle Eyes, Pugs, Panama Jack, and more. Sunshine or not, your eyes still need protection all year round. Our sunglasses are randomly mixed with brands you would find in convenience stores, super discount stores and more. We have carefully packed each order by hand, and will make sure to randomize as many styles as possible.