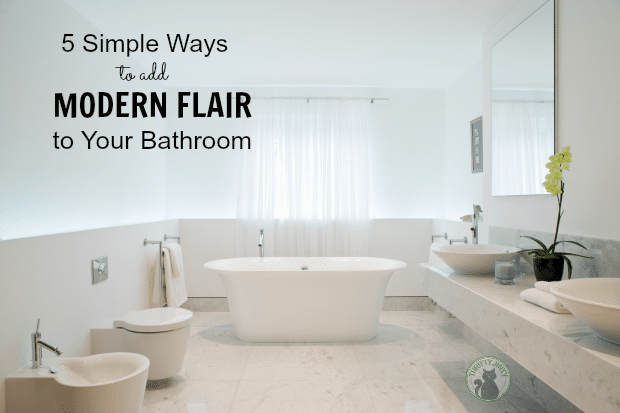 Looking for ways to add some modern flair to your bathroom? Below are 5 different ways to add a new, modern touch with just a few simple updates. Whether you want to dress up your master bath or the one that guests use, we're hoping this bit of inspiration will get you started.
Having a modern bathroom that is up-to-date and, most of all, functional is an important part of a home you're happy to live in and proud to show to guests. Since the bathroom gets a lot of traffic, why not have it be a room that you love to show off! These are simple updates you can do to give your bathroom a drastic change, but not be a long, drawn out makeover.
The items listed below can possibly be done by you, if you're at all handy! Some people say they can't afford making over a room, but that doesn't have to be the case. Start with one thing at a time and work your way to fully making over the room. Replace the lights then a few months later, the vanity, and so on. It doesn't have to all be done overnight!
5 Simple Ways to Add Modern Flair To Your Bathroom
Replace the Faucet:
Simply updating to a new modern faucet, can bring a whole new life to your bathroom. Nothing screams outdated more than a gold colored faucet! Waterfall style faucets are one of the biggest trends right now. You can find more modern trends for faucets and everything thing else in the bedroom at ModernBathroom.com.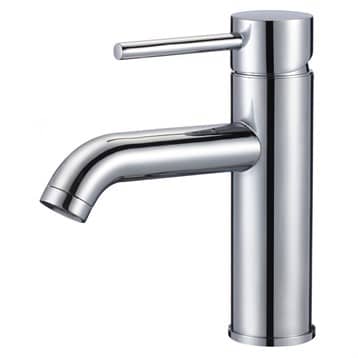 Lighting:
Consider replacing the lights in your bathroom. This is a simple fix, but it can really brighten up and take your bathroom from the 80's to current times in a flash. Pick a simple and modern design that fits the style of your room. I like to find a lighting fixture that matches the style of the toilet, vanity, and colors of the room. Just find a light that fits your own style.
A New Vanity:
You would be amazed at how much your bathroom changes when you change out your bathroom vanity! It can add a richness or brightness to the room it didn't have before. You can find all different sizes, colors, and designs. I am a huge fan of having white in the bathroom! It really makes things look crisp and clean, and you can always add pops of colors with flowers, towels and decorations. I also love the dark colored wood vanities -they can add so much richness to a room! It can give you that high-end modern feel.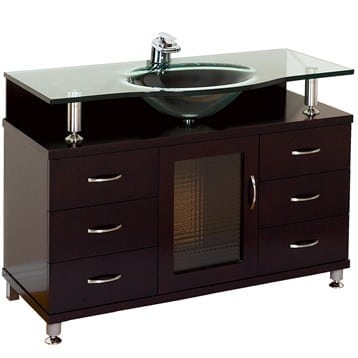 Fresh Coat of Paint and Decorations:
Consider repainting your bathroom if it is needed. A fresh coat of paint can really freshen up the room. If your bathroom is baby blue, you might want to go with a more neutral color like white, cream, grey, etc. Making sure you have light colors on the wall will help open up the space and make it appear larger. Updating the decorations in your bathroom is another must. You don't want a lot of clutter – for a modern look generally less is more. Consider pretty green plants in simple vases, some wall pictures, and so on. You can find a ton of inspiration on Pinterest!
Mirrors:
If you have an older style mirror, consider replacing it or dressing it up. A mirror can be a focal point of the room, so having a nice modern and simple mirror will do wonders! Some frames can be bulky and highly designed, and that can take away from the modern look. Try finding a mirror that fits the style of decor you are going for in your bathroom! You will be amazed at how a simple change like this can add so much design to the room!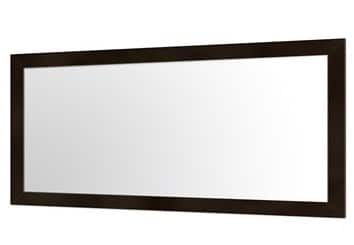 I hope these simple solutions to making over your bathroom can help give you inspiration. Remember it is okay if you have to gradually work to completing your bathroom makeover. The price of remodeling can add up, so doing a little here and there is okay! If you have the budget for a whole makeover at once – go for it!
If you're ready to get started on YOUR bathroom remodel, this Memorial Day Weekend is the time to order your supplies. Modern Bathroom is offering a 6 Day Sales Event over the long weekend, with up to 5% off ALL inventory, and up to 10% off on select brands through 5/30! Get started HERE.
What simple tips do you have for creating a modern bathroom?