Are you in the market for a new laptop?  Or maybe you're wanting to give one as a Christmas gift this year?  Best Buy is always a great place to find the newest technology, especially laptops.  Best Buy is carrying the brand new Satellite Radius 12 by Toshiba which not only has Windows 10, but also has a lot of other exciting features that you're probably looking for in a new computer.  Check out these five facts about the new Toshiba Satellite Radius 12 laptop available at Best Buy: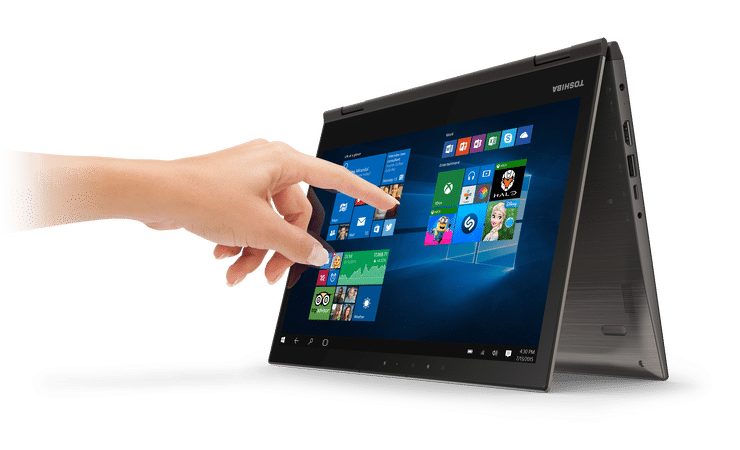 The Toshiba Satellite Radius 12 is a convertible 2-in-1 laptop.  It is actually the world's FIRST 12.5-inch convertible laptop that also has a 4K Ultra HD display.  There are 5 different ways to view this laptop, making it versatile and perfect for anyone and everyone.  Choose from laptop, audience, tabletop, presentation, or tablet mode.  You can touch, tap, or glide on the screen making it a lot of fun for photographers, content creators, and more.
It has all of the specifications you need in a computer.  It offers a 256GB solid state drive which is less than a hard drive but requires less of your system.  This allows you to get connected faster and puts less pressure on your battery.  The Toshiba Satellite Radius 12 also comes with 8GB of system memory which is enough to smoothly browse the Internet and run games and other software, as well as a 6th Gen Intel Core i7-6500U mobile processor.
This laptop features Windows 10 and the new Windows Hello.  Windows Hello is a facial recognition software that securely logs you in and greets you by your name.  Windows 10 is also the newest operating system for Windows which brings back the Start Menu (a favorite of Windows 7 users) and also has new features such as Edge Web browser that lets you markup web pages on your screen and more.
Stream your favorite shows or movies from your laptop to your TV and more. The laptop is loaded with WiDi (Intel Wireless Display) which lets you wirelessly display your content on your HDTV without needing a separate cable.  You can also connect to other devices via Bluetooth or USB.  Note that this laptop does not include a built-in DVD/CD drive.
Not only does it run smooth, but it LOOKS smooth.  It weighs just 2.9 pounds and is 0.61″ thin with a brushed-metal finish in a cool carbon gray color.  The keyboard has an LED backlight, the screen is protected with Gorilla Glass, and the 360-degree hinge makes it easy to view the screen in five unique modes.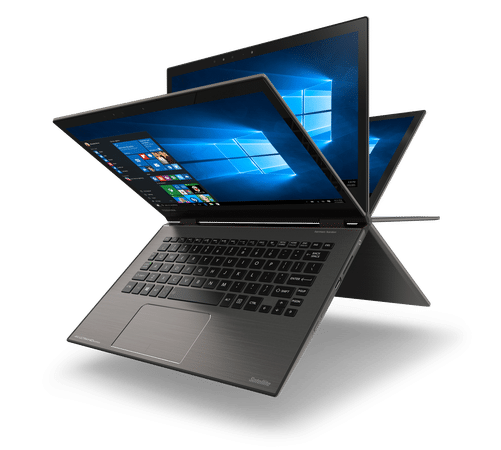 Order the new Toshiba Satellite Radius 12 Laptop from Best Buy today!