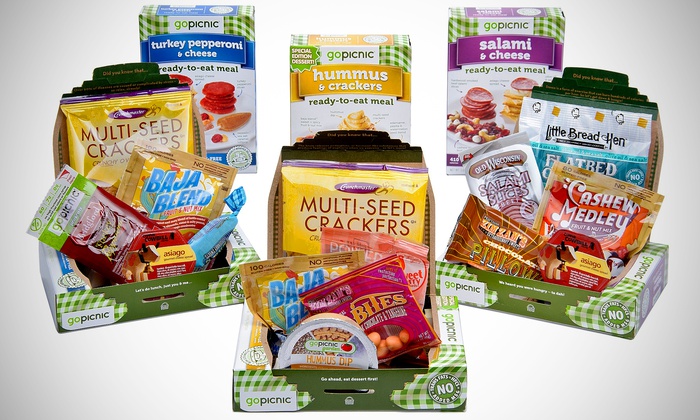 I love this deal available on Groupon right now. You can grab a $40 voucher of GoPicnic products for only $19! These are shelf stable all-in-one meal boxes that are great for picnics and more!
My favorite use for these is to keep a few in the car to have a ready to eat lunch on days where you are out longer than expected and tempted to drive through for lunch. These are incredibly good for you meals with gluten free, kosher, vegan and all natural options available.
They are also great to keep in an emergency preparedness bag since they are shelf stable and don't need to be heated to eat. Head over here to grab this great deal and here are a few details from the listing:
This Groupon's value can cover several days' worth of portable, nutritious meals that can help fight off urges to skip lunch or make poor food choices. GoPicnic's menu includes gluten-free, kosher, vegan, and all-natural options ($4.99–$5.99)—none of which need refrigeration or prep. The GoPicnic meals, which are shipped to customers' doorsteps, feature foods such as Salami & Cheese, Turkey Pepperoni & Cheese, Turkey Stick & Crunch, Sunbutter & Crackers, Hummus & Crackers, and Black Bean Dip & Plantain Chips ($4.99 each). Each GoPicnic meal includes five individually wrapped food items along with utensils. Single-serving packs of fruit-and-nut mixes, cheese cups, and other snacks are also available in bulk quantities.
Disclosure: This post contains affiliate links that help support our site with no additional cost to you. See our complete disclosure policy here.