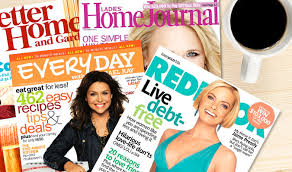 Right now you can get 40% off ALL magazines from Discount Mags with code OCT40 at checkout! There are so many incredible deals to grab with this discount including:
Weight Watchers only $13.95 = $8.37 with Discount
Bon Appetite only $15 = $9.00 with Discount
Glamour only $14.95 = $8.97 with Discount
Dwell only $19.95 = $11.97 with Discount
and More!
The prices at Discount Mags are already incredible, so with this additional coupon code you can get some amazing prices.
And many of these would make great Christmas gifts. You could just purchase the December issue from the newsstand and include a note that says the gift is for a year long subscription. Head over here to shop these sales.
Disclosure: This post contains affiliate links that help support our site with no additional cost to you. See our complete disclosure policy here.