Fantasize about making the perfect home entertainment cabinets? Wish you could build a picnic table for your backyard? Ever see something at the store and thought: I could make that!
No need to worry about being a beginner — anyone can become a DIY'er with the amount of how-to's and posts on the web. But before you buy the materials to tackle that dream project, you have to have the tools. Read on to find out the essentials for just about every DIY project.
Toolbox
All those tools aren't going to just lie around your house. You need a toolbox to store and organize them. Don't scour the house for your drill: Thank yourself later for including everything in one place.
Work Light
This is another basic necessity because without it, you wouldn't be able to see what you're doing! Whether using a fixed light or a headlamp, you won't regret having more light. Save yourself the pain of hammering your thumb in a dark space.
Screwdriver Set
Without screwdrivers, how would you open those tiny battery compartments on your kids' toys? How would you hang up picture frames? How would you pry the lids off of paint cans?
Accept no alternative — screwdrivers were made for these types of tasks. You should have both flat and Phillips-head sets with a variety of different sizes, so you're always ready for the job.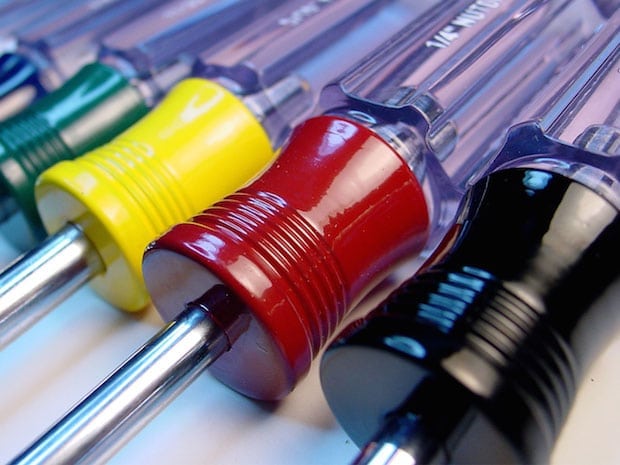 Socket Wrench Set
Bolts are just as common as screws, and you're never going to get them off easily without socket wrenches.
Hammer
The hammer: a toolbox's best friend and soon to be yours as well. You can drive nails with the hammering end and pull them up with the claw end. An ideal hammer has a 16-inch handle and weighs about one pound. Some offer softer handles that have shock absorption and a more stable grip.
Vise Grip
You can have one that sits on the workbench or a portable one (like locking pliers, which are useful for tight and small spaces).
Vise grips aren't just useful for clamping things down though. They are versatile, filling in for wire cutters, wrenches and even handles on machinery.
Tape Measure
How are you going to know the measurements of an object without this essential tool? Guesstimating is a huge no-no in DIY, and you'll just look silly using that 12-inch ruler from grade school.
Level
When I first started DIYing projects at home, I tried turning a bed frame into a bench without using a level. It was a disaster to say the least. Levels aren't just useful for adjusting crooked picture frames. They make sure bigger projects, like shelves, tables and cabinets, are uniform. If something isn't level, you could run into big problems.
Electric Drill
Alongside the hammer, the drill is a competitor for the king of the tools. Drills don't just drill holes and screw screws. They can be used as a sander, a grinder, a paint stirrer and many more options with the right attachments.
Cordless drills are best, as they let you work anywhere. But having a corded drill is okay too — it won't need to be charged.
Air Compressor
Pneumatic tools like an air compressor take away the stress and fatigue that sets in on your body after a long day of work. Air-powered tools basically make every job easier. Whether you're spraying paint, repairing cars or driving nails, you should seriously consider having an air compressor around when the going gets tough.
Utility Knife
Some materials are just too difficult to cut with scissors. The utility knife is meant for opening boxes sealed by mountains of packing tape, breaking down cardboard boxes and cutting straight lines.
A utility knife with built-in storage and a soft grip is recommended.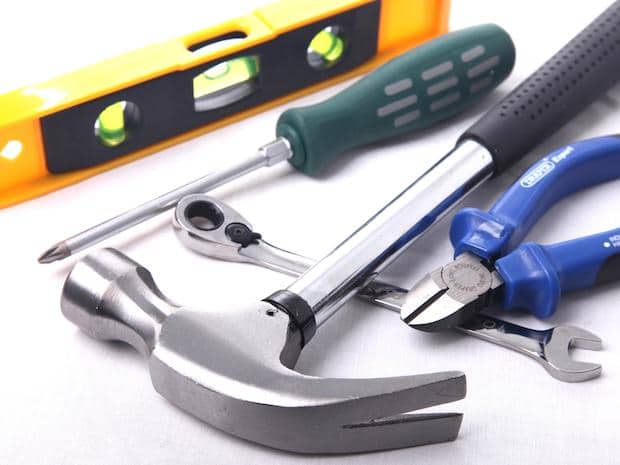 Circular Saw
Circular saws are known for their ability to cut through many types of material, including wood, metal, plastic and masonry. When considering heavy-duty cutting jobs, look no further than this saw. It's small and portable, too.
Where Will I Do All My DIY Projects?
If you don't have a workbench already, you need one. Luckily, building a simple workbench is a fairly quick and easy process: It requires the use of only a saw and a drill. This article from Bob Vila is a great place to look for the work bench that will best suit your projects.
Once you've set up your toolbox with these necessary tools, you'll be on your way to becoming an expert DIY'er in no time!
BIO: Ali Lawrence is the DIYer behind Homey Improvements. In her free time, she enjoys cooking healthy meals in her apple-red kitchen and binge reading fantasy novels. Find her on Twitter @DIYfolks.