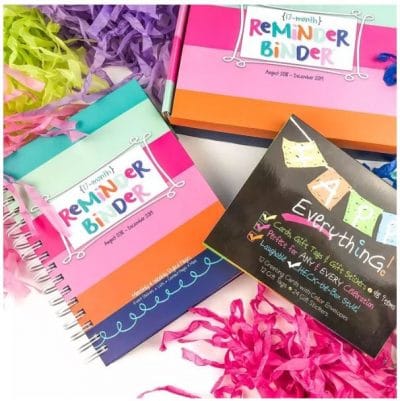 When I was in high school and college, I was a sucker for planners. I am Type-A to the MAX and my planner went everywhere with me! I found a weird sense of pride and joy in keeping my planner up-to-date and being able to keep my life reasonably organized each school year.

Reminder Binder Planner

If you still love a paper planner, you'll definitely want to check out this deal on the 2018-2019 Reminder Binder Planner! Right now it's on sale at Jane.com for just $19.95 + shipping, and it comes with a bonus gift! (More on that later.) Considering this is currently priced at $34.95 on Etsy without the bonus gift, this is a great deal!
In this digital world, there's value in actually writing things down. Yes, on paper. With a pen. [Side note: Pilot G2's are my pref!] You can see it, stylize it…and remember it! More than that, once on paper, you can stop thinking about all your to-do's and what's to come. You will liberate your mind to give it space to relax and engage in the present…and actually ENJOY the moments you've masterfully orchestrated!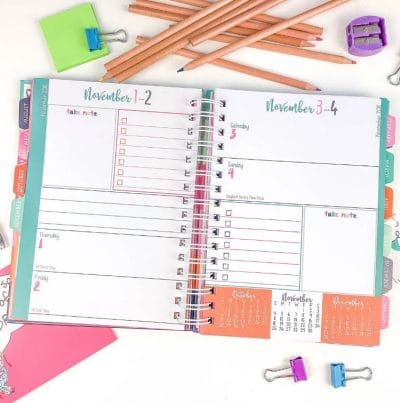 You're invited to join thousands of others who have adopted the Reminder Binder® Planner as their trusted planning tool. This planner is what it is today thanks to feedback from its fans over the last decade! Listed below is the latest "evolution" of this year's edition. The Reminder Binder® planner includes these and more amazing features:

Dates include August 2018 – December 2019, when school starts, so does your planner! [So there's plenty of time to prep-it up!]
Weekly layouts are horizontal with lots of white space each day
Hard Cover – for the 10,000 times you flip through it, it's built to last!
Laminated Tabs – designed to go the distance
Elastic Band Enclosure – your planner gets packed like your week, this band will help keep it all together!
Highlight special dates with the 361 stickers provided on (4) full pages.
You'll also be able to choose one of two bonus gifts: 1) Check-the-Box Humor Greeting Card Set ($24.95 value) or 2) Dad Pad Planner Pad ($11.95 value). The greeting card set means that you'll have a card at the ready no matter the occasion – just check the box that fits! Otherwise the Dad Pad Planner Pad breaks down your family's schedule into the bare essentials for Dad along with daily time slots, a checklist box, and perforated "Tear Sheets" to easily transfer reminders.
Seriously, this planner looks just amazing and gets GREAT reviews! It doesn't start until August 2018 so you have plenty of time to get it ready for when the time comes to use it. Order yours at Jane.com!