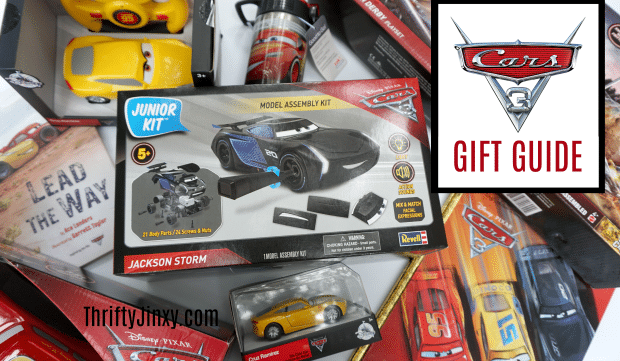 Disney·Pixar's Cars 3 is now in theaters everywhere! You'll want to get to the theater this weekend to see it – it's a fun and exciting ride! Since we know all the Cars fans young and old will want to get their hands on the latest and greatest Cars 3 toys and other products, we're putting together this fun gift guide with some of the newest items you'll find. We even have a reader giveaway!

2017 Cars 3 Gift Guide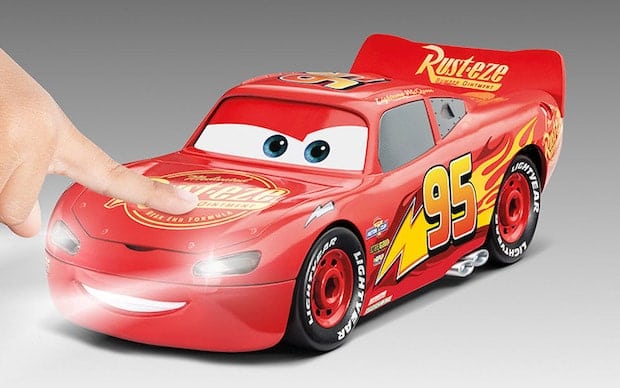 Cars 3 Junior Kits from Revell:
Who's your child's favorite car character from Disney·Pixar's new Cars 3 movie? World champion racer Lightning McQueen? Young hotshot Jackson Storm? Race technician Cruz Ramirez? Fans 5+ can assemble and play with any of the three car stars (or all of them!) with new Junior Kits from Revell – complete with a unique child-friendly screw and nut connector system, working headlights, action sounds, changeable mouth and eye expressions, and take-apart-and-put-back-together ability for hours of fun as well as STEAM learning. Each Cars 3 Junior Kit includes 21 large body parts and 24 screws and nuts.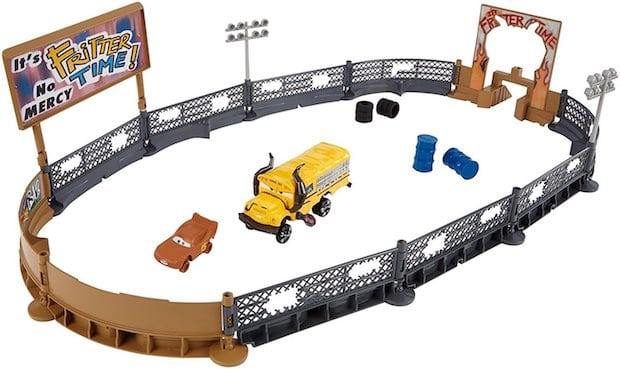 Crazy 8 Crashers Smash & Crash Derby Playset:
Recreate the thrilling competition scenes from the new Disney•Pixar Cars 3 movie with this action packing set. Rev your engines and watch the character vehicles race, crash and bash through the course. The set comes with barrels, tires, and other themed accessories as well as a 1:55 scale mud covered Lightning McQueen vehicle to start the fun right away.The first player to knock Miss Fritter's bus down wins. Then, reconfigure the arena and get ready for more epic action.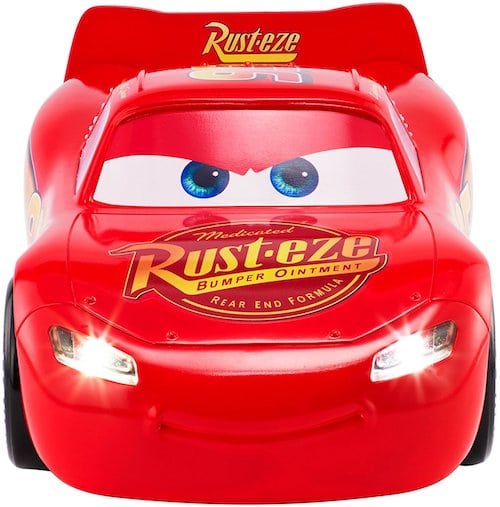 Movie Moves Lightning McQueen:
Enjoy exciting story play and realistic movie fun with Lightning McQueen. Inspired by Disney•Pixar Cars 3, the vehicle reacts to motion when he goes forward, backward, left, right, upside down and says over 65 iconic phrases and sounds. He has a signature sleek design, working headlights and taillights. You can also choose the Movie Moves Cruz Ramirez vehicle and recreate even more dynamic movie scenes and interactive racing.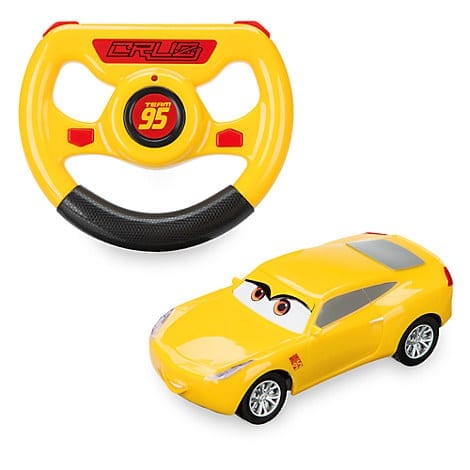 Cruz Ramirez Remote Control Vehicle:
They'll have fun taking a Cruz around with this remote control vehicle. Reliving the high speed thrills of Cars 3, they can put new cast member Cruz Ramirez through her paces.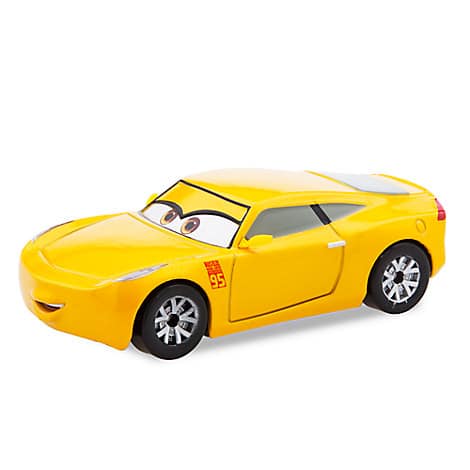 Cruz Ramirez Die Cast Car:
Sleek and sharp in striking yellow, Cruz Ramirez rediscovers her racing dreams thanks to Lightning McQueen. This die cast perfectly captures the sporty styling of the Rust-eze Racing Center trainer and race technician from Cars 3.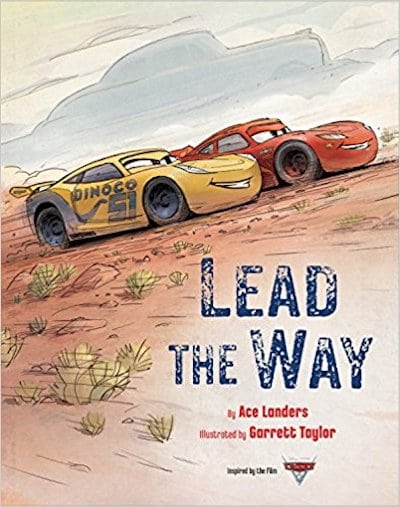 "Lead the Way" Book:
In your life, you may find somebody important, somebody who steers you in the right direction, guides you down long roads, and keeps you on track to follow your dreams. Then, one day, you may find it's your turn to lead the way. Ride along with Lightning McQueen as he revisits many of his cherished moments with the late and great Doc Hudson. Lightning has learned so many inspiring things from Doc that he would like to pass on to Cruz Ramirez-including a lesson about what it really means to win.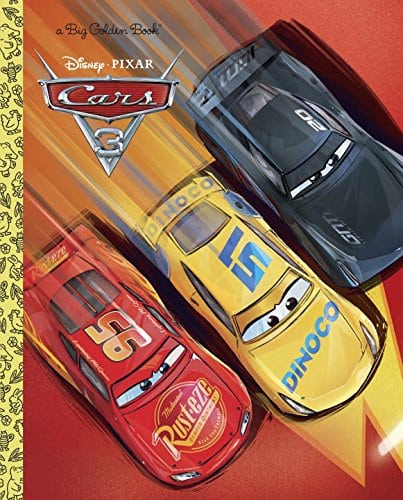 "Cars 3" Big Golden Book:
Blindsided by a new generation of blazing-fast racers, the legendary Lightning McQueen (voice of Owen Wilson) is suddenly pushed out of the sport he loves. To get back in the game, he will need the help of an eager young race technician with her own plan to win, inspiration from the late Fabulous Hudson Hornet, and a few unexpected turns. Proving that #95 isn't through yet will test the heart of a champion on Piston Cup Racing's biggest stage! Children ages 3 to 7 will love this beautifully illustrated hardcover Big Golden Book based on the film.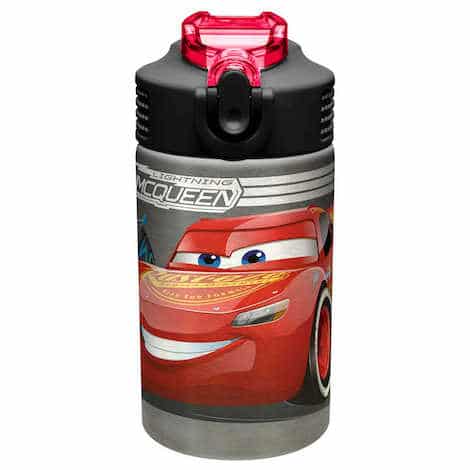 Cars 3 Double Wall Stainless Steel Bottle for Kids:
This stainless steel water bottle makes staying hydrated easy and fun! It holds 15.5 ounces and is made of BPA-free stainless steel, durable enough for kids to take anywhere they want. The screw-on lid has a built-in carrying loop for easy transportation, and doesn't leak when it's closed, so the bottle can be tossed into a bag for worry-free travel. When it's not being used, the comfortable silicone spout can be covered to keep it clean. The bottle is dishwasher safe and should not be microwaved. Recommended for children ages 3 and up.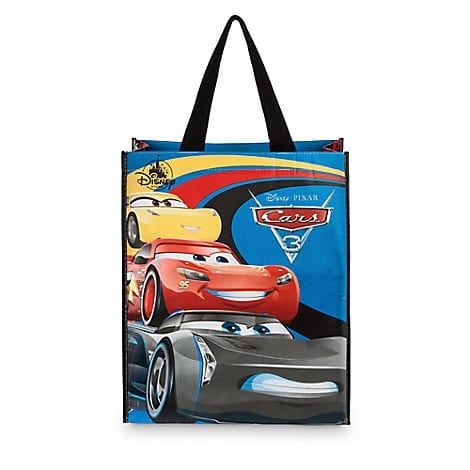 Cars 3 Reusable Tote:
They'll love to go racing off to the store with this reusable Cars 3 tote. Jackson Storm, Lightning McQueen, and Cruz Ramirez battle it out on both sides of this bag that's designed to help our planet win the race against waste!
Disney Pixar Cars 3 Crazy 8 Crashers Smash & Crash Derby Playset

Disney Pixar Cars 3 Movie Moves Lightning McQueen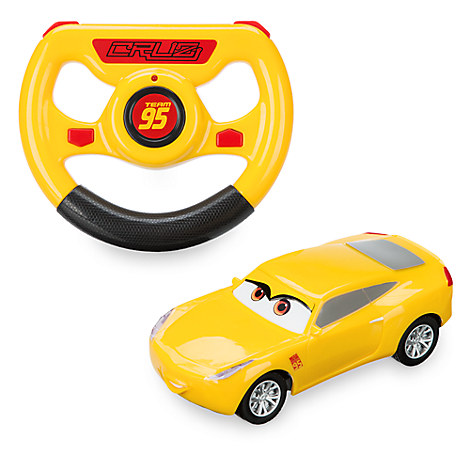 Cruz Ramirez Remote Control VehicleBuy Now
Cruz Ramirez Die Cast CarBuy Now
Cars 3: Lead the Way

Cars 3 Big Golden Book

Cars 3 Double Wall Stainless Steel Bottle for Kids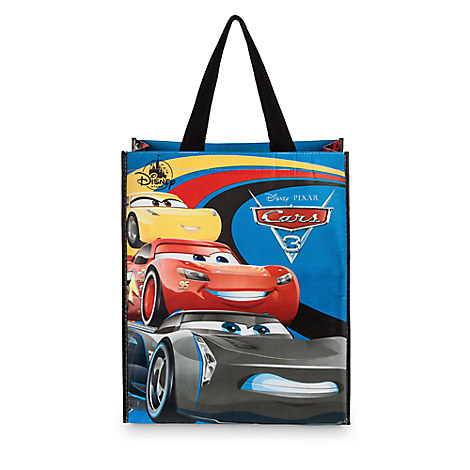 Cars 3 Reusable ToteBuy Now
Revell Jr. Cars 3 KitsBuy Now
Disney Store Summer Play Days

You can go check out some of these items in person at the Disney Store and make your trip extra special during Summer Play Days, kicking off with a special Disney·Pixar Cars 3 event on Saturday, June 10, where you and your kids can learn about the film's characters before jumping into the "driver's seat" and testing your "driving" skills with remote control vehicles on a mini racetrack inside the Store! By participating in Summer Play Days, you can also collect Disney Emoji patches featuring different Disney, Pixar, Marvel and Star Wars characters. New patches will be available each Wednesday between June 14 and August 9:
1. Sat. 6/10: Lightning McQueen
2. Wed. 6/14: Cruz Ramirez
3. Wed. 6/21: Pascal
4. Wed. 6/28: Storm Trooper
5. Wed. 7/5: Spider-Man
6. Wed. 7/12: Jackson Storm
7. Wed. 7/19: Olaf
8. Wed. 7/26: BB-8
9. Wed. 8/2: Iron Man
10. Wed. 8/9: Stitch

Free daily events taking place through August 9 include Storytime, Art of Drawing and Showtimes:
Tangled the Series Event: Guests will learn to draw Pascal, Rapunzel's mischievous friend. A brief introduction is given to the history of Disney Animation.
Star Wars Adventures Event: Guests are invited to participate in three activities, including defense training against Stormtroopers, Millennium Falcon flight training and writing their name in Aurebesh. Guests will receive one of two Star Wars postcards (BB-8 or Chewbacca) and Aurebesh alphabet stickers
Art of Drawing Marvel's Spider-Man Event: Guests will learn to draw Marvel's Spider-Man. A brief introduction is given to the history of Disney Animation, as well as an explanation of traditional and modern Disney animation.
Mickey and the Roadster Racers Event: Guests will prepare for a race in Hotdog hills before they head to Italy to cheer on the Roadster Racers. Each Guest will receive their own trophy.
Princess Gathering Event: Guests will discover the Disney Princesses' ambitions, strengths and will learn what makes each one of them special. Guests who participate will receive a special wristband.
Star Wars Storytime Event: Guests will hear the story, "Star Wars: Escape from Jakku." Journey through the story, helping the narrators bring the story to life with interactive movements. Guests will receive a BB-8 finger puppet of their own.
Avengers Training Academy Event: Guests will take part of the Avengers Age of Ultron Training Academy to get an overview of each of the Avengers and learn their key skills and poses.
Elena of Avalor Event: Guests will use Elena's Scepter of Light to channel the powerful magic Elena has, play and dance along with an inflatable guitar and create their own Jaquin to fly around.
For additional information, contact your local Disney Store and join the summer fun during #DisneyPlayDays.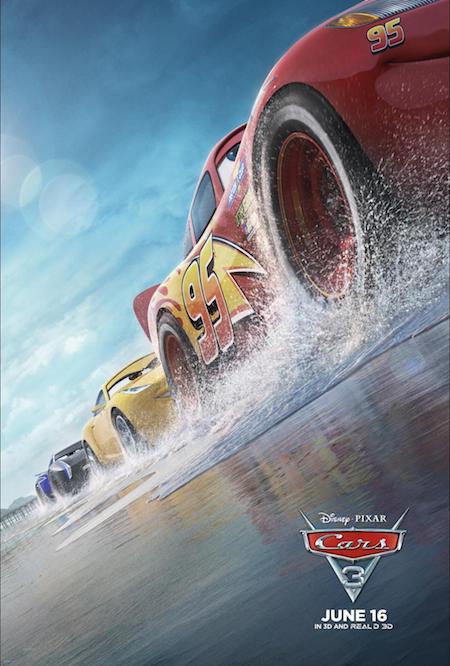 Reader Giveaway: One lucky Thrifty Jinxy reader will win their own Cars 3 Junior Kit from Revell. To enter, just complete the entry form below by 11:59pm ET on 6/10/17. Good luck!
Cars 3 Gift Guide Giveaway – Revell Jr. Kit

Like CARS on Facebook
Follow Disney/Pixar on Twitter
Follow Disney/Pixar on Instagram
CARS 3 is in theatres everywhere NOW!