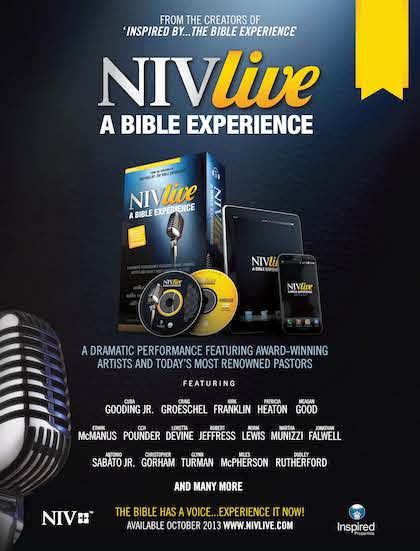 Here's a nice gift idea!  The new
NIV Live: Digital Bible
is a great way to experience the scriptures in an audio fashion.  Listen to it while you clean the house, drive to work, or any other time where sitting down to physically read isn't an option.
NIV Live: Digital Bible features award-winning actors like Denzel Washington, Cuba Gooding Jr, and others with Hollywood sound effects and the Prague Philharmonic Orchestra all in 3D cinematic sound, to bring the bible to life. The 79-CD set includes digital access, which can sync on up to 6 devices. Families can create playlists, search by verse or follow one of the listening plans, including the 30-Day Challenge.
Multi-sensory. Cinematic. 3D Enhanced Sound. The NIV Live (New International Version) audio Bible is a dramatic masterpiece that presents the Bible in an engaging and entertaining format, allowing you to enjoy God's eternal story whenever and wherever you desire. This powerful audio CD set lets you listen to and experience the entire Bible from cover to cover. An unrivaled cast of faith leaders and award-winning talent leads you through dramatic, powerful performances by breathing life into the words and teachings of the Bible.

The Creators of the award-winning 'Inspired by…The Bible Experience' have returned to give the complete Bible – Genesis through Revelation – a voice; 368, to be exact, bringing to life the most recognized book in the world, making the words impactful and relevant for everyone—from believers to skeptics. NIV Live features an ensemble cast of actors, musicians, and notable personalities, including Oscar, Emmy and Grammy Award
nominees and winners, leading pastors, teachers, members of the clergy, and evangelists, re-enact the complete Bible for your listening experience.

Two-time Emmy Award winning actress and producer Patricia Heaton (Mary Magdalene), Jesse Corti (Abraham), Kris Polaha (David), Mick Wingert (Saul), Tony Award nominated actor Norm Lewis (Solomon), Christopher Gorham (Jesus), Pastor Paula White (Deborah), Carlos Santos (Luke), Grammy Award nominated singer and songwriter Martha Munizzi (Abigail), Pastor Craig Groeschel (Amos), Christine Lakin (Jezebel), Alex Dessert (Joshua), Phil Crowley (Moses), Tatyana Ali (Tamar), Emmy Award winning producer Pastor Miles McPherson (Angel) and as (Peter), nine-time Grammy Award winning singer and producer Kirk Franklin, along with many others.

NIV Live is the most accessible and up-to-date translation, and each biblical character is represented by a unique voice that brings the persona to life. Dramatic performances, 3D theatrical sound and a beautiful, inspired score by the Prague Philharmonic Orchestra make this an unforgettable listening sensation. The NIV Live audio Bible delivers a truly spiritual, heart-pounding and authentic event that will become the most engaging and emotional experience of your lifetime.
BIG Discount:
Great news!  Thrifty Jinxy readers can take 60% off the 79-CD set/digital download bundle pack.  Grab it for just $39.99, regularly $99.99.  Just use the coupon code
Christmas60
at checkout at
www.nivlive.net
.