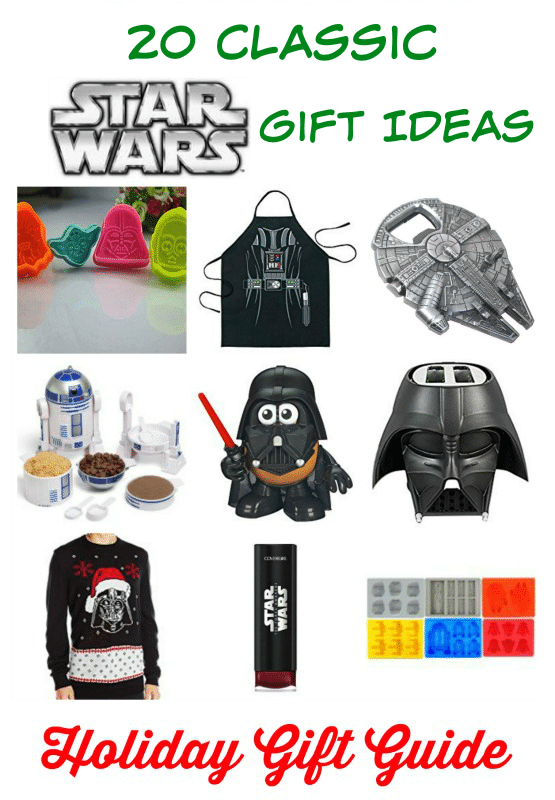 It's pretty exciting that we are starting to have NEW Star Wars movies each holiday season. But, when it comes to Star Wars collecting, the CLASSIC characters is where it's at! So, if you have a Star Wars fan on your Christmas or Hanukkah shopping list, check out this awesome collection of 20 Classic Star Wars Gift Ideas featuring all the favorites including Darth Vader, R2-D2, the Death Star and more. Thanks to A Frugal Home for getting us started with ideas.
If your Star Wars fan likes to cook, or even if they just like to have a party with cool Star Wars serve-ware, those are some of my favorite items! I totally need that Death Star Waffle Maker!!
I also love the Star Wars Ugly Christmas Sweaters. If you check out our options, you'll then see related items below them on the product pages with lots more options. Besides different graphics and characters, they also have the options of sweatshirts, long sleeve t-shirts etc. I'm thinking one for each of the 12 days of Christmas would be a super fun idea!

20 Classic Star Wars Gift Ideas
Darth Vader Be The Character Apron
Star Wars R2-D2 Measuring Cup Set
Death Star Light-up Beach Ball
Darth Vader and Son Book
Merry Christmas AT-AT Walke
Set of 8 Star Wars Silicone Ice Trays
Playskool Mr. Potato Head Star Wars: Darth Tater Toy
Goodnight Darth Vader Book
Star Wars Darth Vader Toaster
Vader Sleigh Ugly Sweater
Death Star Waffle Maker
Star Wars Cutlery Set Lightsabers
The Star Wars Cook Book: Wookiee Cookies and Other Galactic Recipes
CoverGirl Star Wars Limited Edition Colorlicious Lipstick
Millenium Falcon Metal Bottle Opener
Set of 4 Star Wars Plunger Cookie Cutters
Star Wars Darth Vader Christmas Sweatshirt
Star Wars Seatbelt Buckle Belt
Silver Plated "I Love You / I Know" Couple Pendant Necklace
Darth Vader Star Wars Mighty Minis Micro Boost USB Charger
&