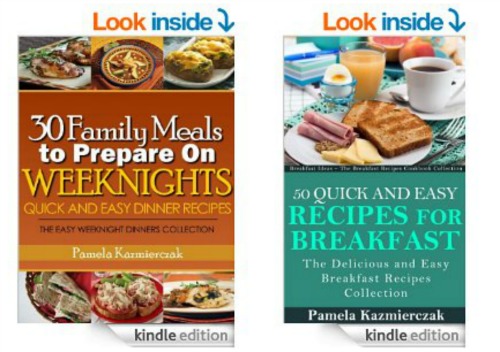 If you're always in a rush trying to figure out what you can make for dinner or breakfast that won't take much time, take a few seconds today to download these FREE eBooks. They'll give you lots of ideas, but they may not be free after  today. They are:
30 Family Meals To Prepare On Weeknights
50 Quick and Easy Recipes For Breakfast
Remember that you DON'T need a Kindle to read these (or you can get a great deal on a Kindle here).  It can be download for free to your Kindle, iPad, iPhone, PC or other compatible device. You can download a FREE Kindle app for your Web Browser, PC, Mac, iPhone, iPad, BlackBerry, or Android Phone.
Also, keep in mind that while these books are free right now, the prices may change at any time.
Disclosure: This post contains affiliate links that help support our site with no additional cost to you. See our complete disclosure policy here.