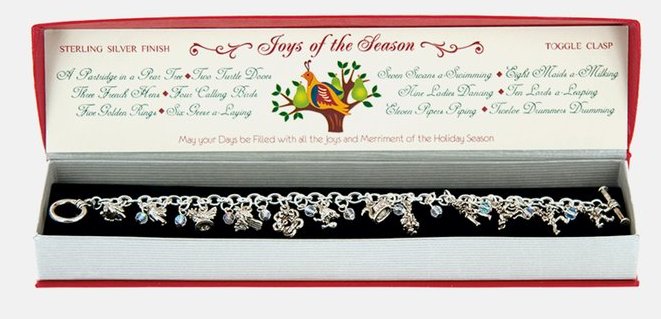 I think this bracelet is so cute! Get a 12 Days of Christmas Bracelet to celebrate the season! Each charm in this sterling silver plated bracelet represents one of the days in the classic 12 Days of Christmas song. I love charm bracelets, so I think this will be a Christmas gift to myself!
You know the song… This bracelet features a sterling silver chain adorned with 12 tiny charms (1/2″ to 3/4″ tall), each depicting one of the 12 days of Christmas from that Christmas carol you know and love…
The 12 charms include: partridge in a pear tree, turtle dove, French hen, calling bird, 5 rings, geese a-laying, swans swimming, maids milking, lord leaping, ladies dancing, pipers piping, and drummer drumming. All charms are made in the USA from lead-safe pewter (contains no lead or nickel). Charms range from 1/2 inch to 3/4 inch tall.
The bracelet chain is sterling silver, and has a sterling silver lobster clasp. The crystal dangles are Swarovski crystals in fern green and light Siam ruby.
UPDATE: I did buy this bracelet for myself and I LOVE it!! It will make a great gift idea for any lady on your shopping list!