The weather may not have caught up to the calendar yet, but spring is here! There are a few things that come to mind when I think of spring: warm weather, Easter, spending time outdoors, and spring cleaning. For me, a major component of spring cleaning is clearing away clutter and organizing the living spaces in our home. In this post I'll show you eleven of my favorite organizing tools for spring!
Better Homes and Gardens Furniture 8-Cube Room Organizer

1. Storage Cubes
Storage cubes are one of my favorite organization solutions. You can find these cubes in so many different colors and patterns to match any decor in your home. You can even purchase shelving made specifically for these cubes, but a special shelf isn't a necessity – you can place these bins on any shelf or surface! I love using them in cubby-hole-type shelving because you can just throw odds and ends in when you're in a time crunch and nobody will ever know the difference!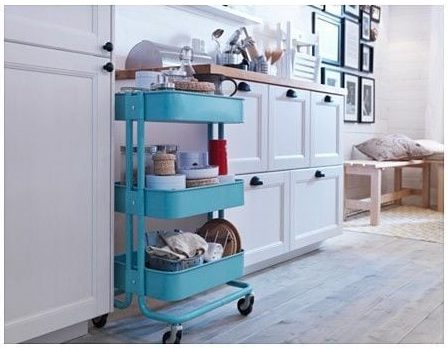 2. Kitchen Cart
There are so many different uses for a kitchen cart that you're going to be tempted to buy one for every room. I'm obsessed with my Ikea Raskog Cart in the Turquoise color. There are other colors to choose from too, or you could spray paint it to go with your home's decor. I use my Ikea Raskog Cart for my crafting and planning. My bottom shelf is full of my adult coloring books, crayons, and markers. My middle shelf has scrapbooking stickers and pens, while my top shelf is for things I need to be able to access quickly such as my planner, my washi tape storage, my bill binder, etc.
InterDesign 35330 Clarity Stackable Organizer Holder for Eyeglasses, Sunglasses, Reading Glasses – 3 Drawer, Clear

3. Glasses Case
I have three of these InterDesign Clarity 3 Drawer Organizer Glasses Cases in my house already and am planning on purchasing more. My husband and I both wear glasses, and I recently got an awesome deal on glasses so I stocked up on tons of styles. We store all of them in one of these organizers (it holds three pairs per drawer, nine pairs per case) so you can easily access a different pair when you want to change up your look.
I don't just use these for glasses though. I also use these for my washi tape collection in my crafts room! A standard roll of washi tape fits perfectly in a drawer. They are also perfect for craft scissors, small tools, or even bath toys. Think outside the box and I'm sure you'll come up with many items in your home that would fit perfectly in one of these handsome cases.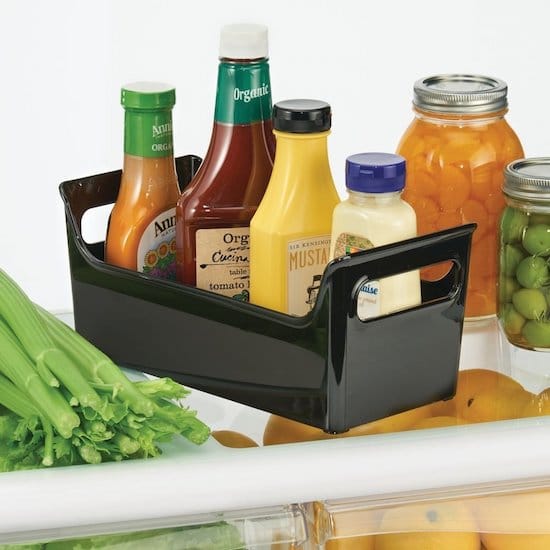 4. Fridge Binz
My collection of Fridge Binz is already pretty big, but I still want more Binz! It is amazing how organized you can get your fridge and freezer when you take everything out of boxes or bags and put them in Fridge Binz. I've found that when it's easy to see what you have in stock, you're less apt to let food expire, so there is less food waste. I especially love the Soda Can Organizer. It looks so much better than having a cardboard box of soda in the fridge!
Smooth Trip Hanging Shower Organizer for Curtain Rods with Mesh Dispenser Pockets

5. Shower Organizers
I recently purchased two mesh shower organizers and they have really brought order to our bathroom. I love having several different types of shampoos and soaps on hand, but they were piled up and crowding the corners of my tub. A mesh shower organizer hooks on your shower rings; it is a great way to get your shampoo bottles, soap bottles, and razors into a more practical space for easy access. The shower organizer I have has holes in the bottom so you can store your shampoo and conditioner top down. That way you don't have to remove the bottles to squeeze the product out!
You can use the organizers in other areas of your house, too. Put one in your pantry to store seasonings, or in your cleaning closet to store extra sponges, stain removers and more.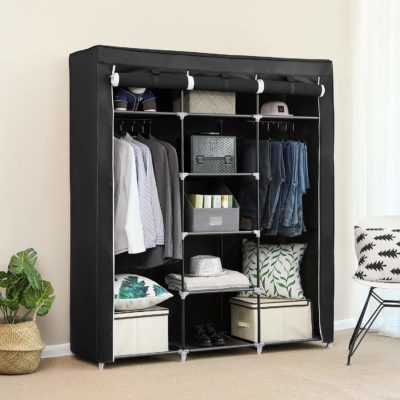 6. Portable Closets
If you don't have a ton of closet space, a portable closet is a simple solution. These closets are laid out perfectly for organizing all your clothing. Each brand is a little different, but most have a bar at the top to hang clothes and then several shelves or drawers for shoes, bags, and sweaters. Some, like the model in the photo, include a cover so you can even shut the closet door!
7. Wrapping Station
Wrapping gifts is a breeze if you have a wrapping station. I waste so much wrapping paper because after I use it for Christmas or for a gift, it gets thrown into a closet because I have no other place for it. Then it gets ripped and damaged or I forget about it and go purchase more. Wrapping stations have several large spools where you can keep your paper in a designated place, and drawers for accessories like scissors, tape, ribbons, bows, etc. Some carts even have a flat space on top so you can wrap your gifts right on the top of the cart.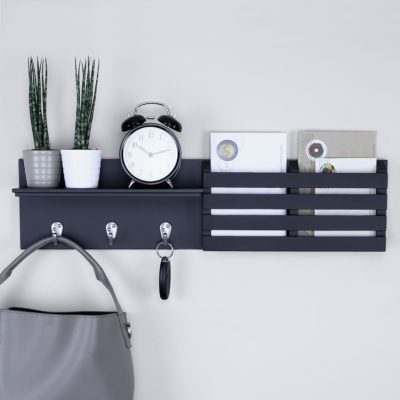 8. Key and Mail Holder
One of the biggest struggles in my household is locating car keys in the morning. After wasting time hunting for keys in every corner of the house, I finally invested in an organizer that hangs right by my front door and has hooks for keys, as well as slots for incoming and outgoing mail. Amazon features a number of different styles to choose from, including rustic, modern, and handcrafted.
Seville Classics 3-Tier Expandable Shoe Rack, Chrome

9. Shoe Rack
Are your shoes in such a jumble at the bottom of your closet that you can never find the ones you're looking for? Keep your shoes organized with a shoe rack! You can find ones that fit over the back of a door if you are really trying to save space but I use one that sits in the bottom of my closet like the one pictured here. I love having all of my shoes in plain sight so that I can easily put together an outfit.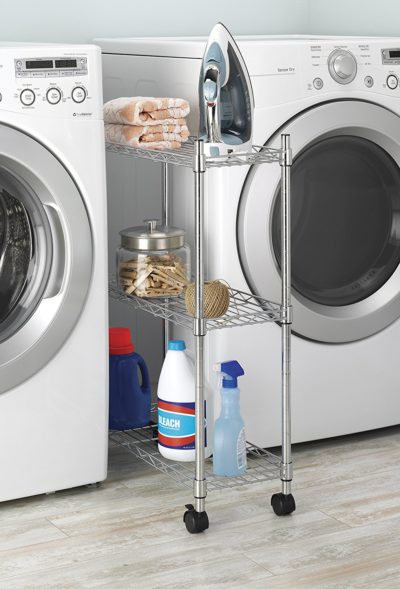 10. Laundry Cart
We recently purchased a new washing machine and dryer, and that put me in the mood to decorate and organize my laundry room. It took me a while to decide where to put my laundry detergent and fabric softener. I used to just keep them on the top of my dryer but I got sick of how cluttered that looked. Finally, I purchased a laundry cart and it solved my storage problem! The one I chose fits easily between my washer and dryer and rolls out when I need it.
Sorbus Set of 4 Foldable Drawer Dividers, Storage Boxes, Closet Organizers, Under Bed Organizer (Black)

11. Drawer Organizers
Another recent purchase in our household was a new bedroom suite. Our brand new bed has drawers built into the base that are pretty large. Rather than just throw things in the drawers, I invested in some drawer dividers and drawer organizers to break the drawers up into smaller compartments. I've found that this keeps everything less jumbled and way more organized!
Organizing your living space not only makes your home prettier to look at — I've found that it's therapeutic to make sure everything has a place. Knowing where everything is when I need it makes for less daily stress and frustration. Investing in some convenient organizing tools is a wonderful way to get your home ready for spring.