Great news for puppy fans! 101 Dalmatians: Diamond Edition arrives February 10th! 101 Dalmatians was one of my very favorite movies as a kid. I'm sure that loving dogs had a lot to do with it. Pongo and Perdita's little pups have to be about the cutest little dogs ever! I was fascinated and thrilled by just how MANY of them there were and at the same time was terrified of Cruella De Vil. It was a bad coincidence that I had just recently watched 101 Dalmatians when I met my great-aunt Bets for the first time. Her hairstyle had a streak of white in it and as soon as I saw her I ran to my mom in a panic and asked (not very quietly), "Is that Cruella De Vil"?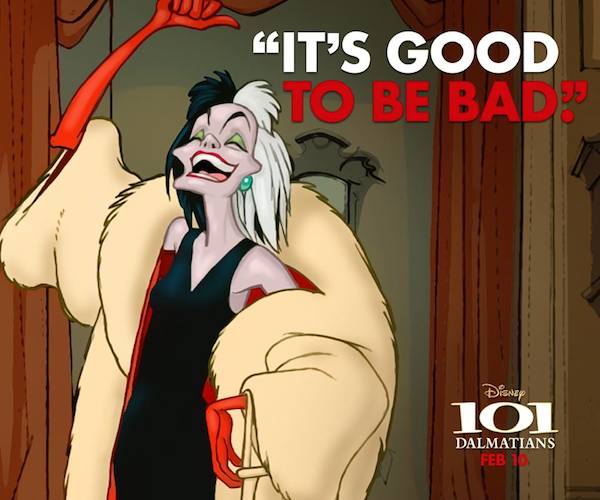 Now we can ALL relive those childhood memories with 101 Dalmatians for the first time ever on Blu-ray and Didgital HD. For those of you (I'm sure there are 2 or 3) who have NEVER seen 101 Dalmatians, here is the story:
Walt Disney's original classic 101 DALMATIANS has charmed audiences for generations with its irresistible tail-wagging stars, memorable story and wonderful blend of humor and adventure. Cruella De Vil, Disney's most outrageous villain, sets the fur-raising adventure in motion when she dognaps all of the Dalmatian puppies in London — including 15 from Pongo and Perdita's family. Through the power of the "Twilight Bark," Pongo leads a heroic cast of animal characters on a dramatic quest to rescue them all in a story the whole family will enjoy again and again.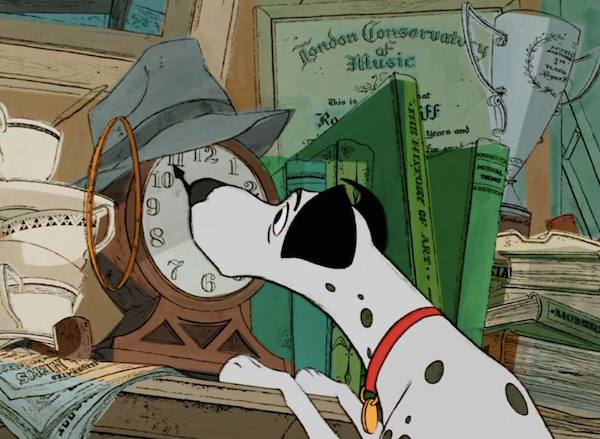 On this special 101 Dalmatians: Diamond Edition there are lots of bonus features! There is a NEW animated short "The Further Adventures of Thunderbolt". This short continues the action of the pups favorite show – the one we see them all gathered around their television to watch. Dalmatians 101 (hosted by Disney Channel's Cameron Boyce) will help you learn all about the dalmatians. In "Lucky Dogs" we hear conversations with the Disney team who brought 101 Dalmatians to life. It's fascinating hearing what it was like to work on this groundbreaking film and the new processes (like Xerox) that were brought in to create it.
We have a great collection of fun facts and behind-the-scenes material for you to check out below. Find out fun facts like how many spots are in the film, how Xerox was introduced to the animation process, the extraordinary color styling of the film and a How-To-Draw Cruella De Vil by Master Animator Andreas Deja!
Find out more about 101 Dalmatians by visiting the Official Website: https://movies.disney.com/101-dalmatians-1961 and following 101 Dalmatians on Facebook https://www.facebook.com/Disney101Dalmatians.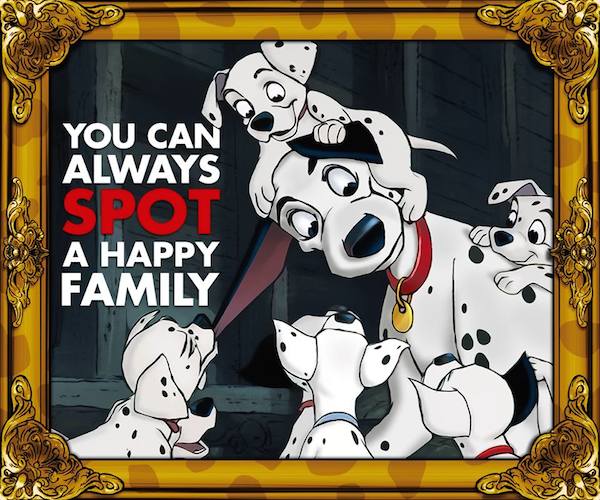 Reader Giveaway: One lucky Thrifty Jinxy reader will win their own copy of 101 Dalmatians: Diamond Edition. To enter, just complete the entry form below by 11:59pm ET on 3/2/2015. Good luck!