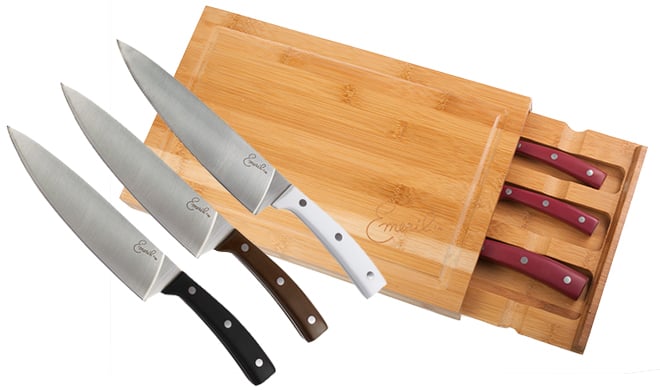 There is a great deal on 1 Sale a Day today on an Emeril cutting board set. This great set has the cutting board with a storage drawer underneath and 3-knife set.
Head over to 1 Sale a Day to get this great deal and here are a few details:
Serving up great things isn't just Emeril's passion-it's his life. The recognition and awards he's achieved has made him famous to food-loving Americans everywhere. His restaurants earn high praise and top ratings. When he developed his own cookware line, he settled for nothing less than perfect. The Emerilware Collection is marked by Emeril's high standards of quality, performance, and design, and is inspired by his passion for cooking and entertaining.
Emeril's bamboo cutting boards combine the timeless beauty of natural wood with the increasingly important and necessary benefits of natural sustainability. Harvested at peak maturity for the ultimate in toughness and durability, this board is super hard – harder than maple or oak – so it won't be scarred by even the sharpest cooking knives. Also, because bamboo is non-porous, there's little chance of bacteria entering the wood. Featuring a storage drawer that holds three versatile knife styles for maximum cutting, dicing, and chopping capabilities, this set will inspire you to start cooking!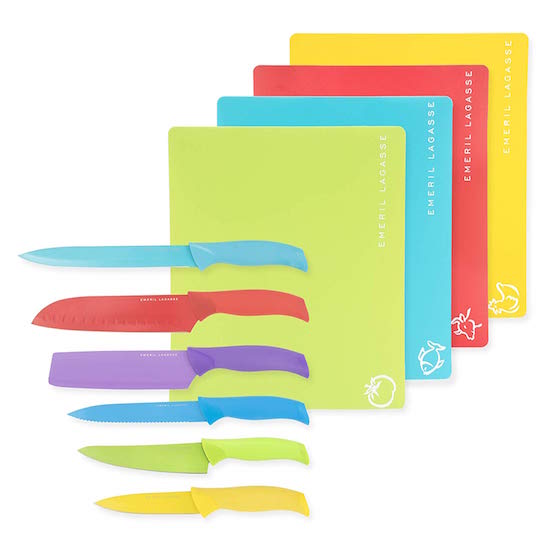 This versatile and unique Emeril cutting board and knife set contains 6 premium knives: 8''Slicer, 7'' Santoku, 6.5'' Nakiri, 5.5'' Prep knife, 5'' Utility, 3.5'' Paring and 6 protective sheaths. It also comes with 4 extra thick yet flexible plastic Cutting Mats that will last through even the most rigorous of kitchen uses! Non-stick, non-slip, and dishwasher safe!
Each knife and cutting board comes in its own vibrant color. Specially designed to give a perfect look of elegance, the smoothness of the design makes it more attractive and extra useful. Particularly smooth are the edges where your fingers hit, so that you can use them safely! This classy cutlery set is essential for the impeccable table setting to impress family and friends, appropriate for formal events or everyday meals.