What are the most fun kind of valentines? The ones you make yourself! These cute playing card valentines are super easy to make and lots of fun too. They are easy enough for kids to make themselves, but perfect for grown-ups (especially those who love to play cards) too. You can usually get a package of two decks of 52 playing cards at the dollar store for only $1. We only used regular typing paper for our cards, but construction paper or cardstock will make a sturdier valentine.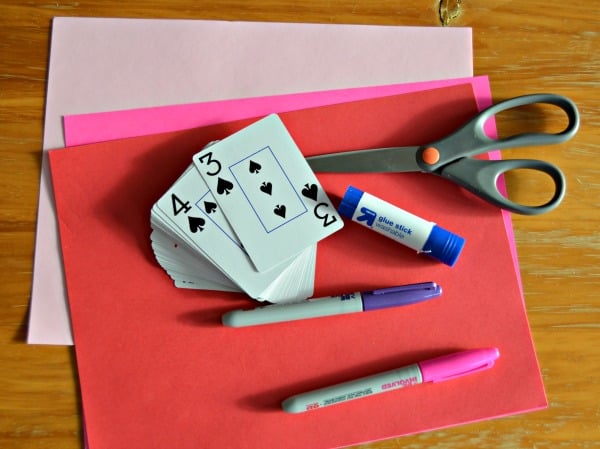 DIY Playing Card Valentines

Supplies:
Colored Paper
Playing Cards
Scissors
Glue Stick
Markers
Directions:
Cut paper in halves or in fourths. Use a glue stick to attach playing cards to valentines. Write phrases on Valentines using markers. Choose from phrases listed below or create your own.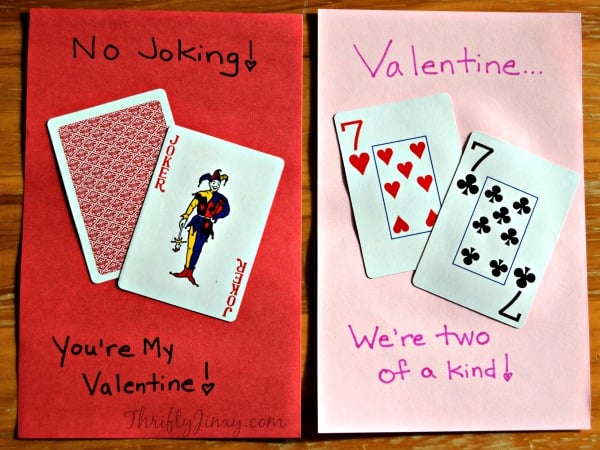 Playing Card Valentine Phrases:
Aces: You're Aces Valentine!
2: You're "2" sweet.
Any two cards of the same number: We're two of a kind.
Queen: You're queen of my heart.
King: You're King of my heart.
Joker: No Joking! You're my Valentine!
Any card: You suit me.
Any card: I'm betting on a Happy Valentine's Day.
Any card: You're the real deal!