Are you ready for end of Daylight Saving Time on November 1?  I will say the same thing I say every year – I am NOT! I like having that extra daylight at the end of each day and think it's very sad when the sun starts going down earlier and earlier each night. That final one hour drop when we switch away from Daylight Saving Time is the worst. It means the long, dreaded winter is here!
The change in daylight can also mean a change in sleeping habits. Breathe Right is getting involved to make sure that we are able to get a good, healthy sleep every night. There are lots of things you can do to make sure you get a better night of sleep, especially things like disconnecting from your electronic devices for at least an hour before bedtime and also actually getting to bed an hour early. Beginning this Daylight Saving, Breathe Right asking people to make a healthy commitment for better sleep every night.  It's easy for YOU to get involved!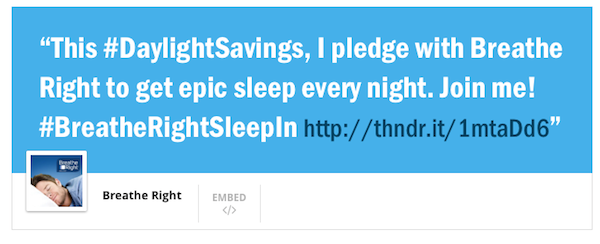 All you need to do to join the movement is to visit The Breathe Right #sleepinmovement via thunderclap and make this pledge: "This #DaylightSavings, I pledge with Breathe Right to get epic sleep every night. Join me! #BreatheRightSleepIn" Connect your Facebook or Twitter accounts and they will post this message on your feed along with other supporters on November 1 at 8:00PM EDT.
When you suffer from nasal congestion at night, it can make it more difficult to breathe and sleep. When you don't get a good night's sleep, you can end up waking up tired, crabby, groggy, and generally "out-of-it". There are different causes for that congestion – everything from a cold, to allergies, to a deviated septum. If you have difficulty sleeping due to nasal congestion, or if your snoring causes you or your loved ones to get less sleep, you can find help with Breathe Right. The spring-like bands lift your nasal passages to help increase airflow so you can breathe better. And when you can breathe better, you can sleep better.
I currently am suffering from a bad episode of the flu. So, I was happy to see that my sample of Breathe Right came in the mail today. I am not even sleeping right now, but just to test it out, I opened a package and applied it to my nose. Guess what – I'm breathing better even awake! I look forward to seeing how much better I sleep when I wear it tonight.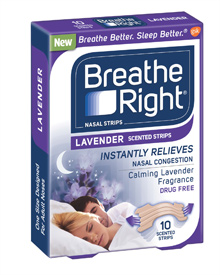 Free Sample: Do you want a FREE sample for yourself? Go claim your free sample of Breathe Right Lavender here. These strips have a calming lavender fragrance that you activate just by scratching the surface. I love that scent!