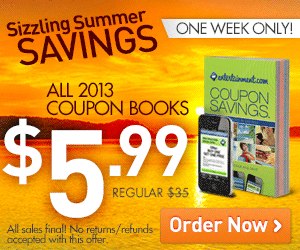 Right now you can get 2013 Entertainment Books for only $5.99! That's a great discount from the regular price of $35 – plus, standard shipping is only $1, so that's $6.99 shipped!
This book is a GREAT way to save money on restaurants and entertainment – even grocery stores! When you select your location, you'll be able to see a sample of the coupons that are in your book.
What I love most about using them is I find that I try out more local events and attractions! Each year my family finds coupons for stuff that we love and never would have tried otherwise! Head over here to get a book at this great price!